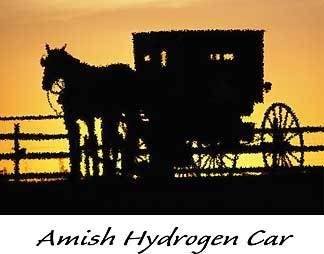 No one disputes
we're running out of gas
. Our global gas gauge is flickering on E. We could argue about just when that might occur, but it's a simple fact that oil is a nonrenewable energy source. There's only so much. Another simple fact is that we depend on foreign sources for our oil.
Grassroots groups like
Lehigh Valley Beyond Oil (LVBO)
have sprung up to address this problem.
Charles Dertinger
, Democratic candidate for Congress (Pa. 15th), joined LVBO in an oil independence rally early this summer. But it may surprise you to know that
Congressman Charlie Dent
has proposed a practical solution to ease our diminishing oil supply.
When I met Dent this summer, he spoke enthusiastically about hydrogen as an alternative energy source. I honestly didn't think he was really serious until last week's debate, when he spoke of converting Interstate 78 into a
"hydrogen highway."
I did some research and was surprised to learn that, although he's only a freshman Congressman, Dent is actually one of the four founders of the House's bipartisan
House & Fuel Cell Caucus
.
Dent's congressional website
tell us
"Interstate 78 is uniquely situated and suited to be a gateway to the hydrogen economy - the Hydrogen Highway East.
" A hydrogen network will (1) decrease our dependence on foreign oil and fossil fuels; (2) protect our citizens and preserve our environment from the harmful effects of vehicle emissions; and (3) mitigate traffic and congestion. Right now, hydrogen infrastructure is being planned along the highway. Yesterday's
Morning Call
tells us Lehigh Valley's Air Products is already at work on a permanent hydrogen fueling station as an important link in
"Hydrogen Highway East."
And Allentown's Da Vinci Center is the recipient of a
$400 thousand federal grant
to develop hydrogen fueled cars.
But is hydrogen safe? We all remember the Hindenberg. Surprisingly, it is not
inherently explosive
, and is actually safer than
gasoline
.
There are also questions about the energy and cost consumed in hydrogen production, the relative difficulty in storage, and a worry that hydrogen will be produced from fossil fuels instead of other sources.
Hydrogen is no silver bullet, but it's nice to see local solution taking shape to combat a global problem. And, as
LVDem
tells us, Lehigh County is also making environmental strides with its recent purchase of a hybrid.