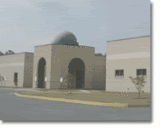 Last year
, some Whitehall voters were upset at having to vote at the
Islamic Center of the Lehigh Valley
. Despite complaints, Lehigh County elections officials made no changes. Betty Hillwig, who runs
Lehigh County's Voter Registration
office, said,
"I am not looking to change it.....I think it's a wonderful place. The people there have been lovely, and I'm sorry people are unhappy with it."
I don't blame her. I've voted in churches, schools and fire halls. These locations usually offer ample parking and some elbow room for last-minute electioneering. Most of us don't really mind where we're voting so long as we can get in and out quickly, and grab a cupcake from a bake sale.
But tonight, I'm having second thoughts. I just received a copy of a letter written by a Republican to Bonnie Dodge, telling her
"I will not have the opportunity to vote for you or any other candidates this year."
Here's why.
"Last year, before the November elections, we were notified that due to growth and redistricting our polling location was changed. We were previously voting at a local high school and now we are to vote at the Islamic Center of the Lehigh Valley.
I am certain that the majority of Islamic worshippers are well meaning and law abiding and I harbor no ill-will toward Muslim's in general. However, I feel it is inappropriate to ask Americans to vote at this location given the events of 9-11. In addition, what happened to the 'division of church and state' as set forth in our constitution? I realize that was meant to not allow religious zealots to control the country and allow for religious freedom, but government (tax) money is being paid to The Islamic Center for use of the space.
Last year was the first time in over 15 years that I did not vote. This year I was determined to not give up that right to vote; I requested an absentee ballot. My request was denied because my reason was 'not a valid reason to receive an absentee ballot.'
I feel that my right to vote has been taken away. I know dozens of other people in my area that feel the same way and will not be voting. I have a friend that works at the polling location on Election Day and she said that turnout was down considerably last year and many stated that their spouse, friends, and neighbors will not set foot in the Islamic Center. "
I'm sorry to hear that so many voters are turned off by the notion of voting in a Muslim facility. They should realize that radical extremists were responsible for what happened on 9/11, and those can be found in all religions. But the Republican (I won't name him) who wrote this letter makes some valid points.
First, when possible, a polling place should be at a religiously neutral site. In
Cleveland Heights,
for example, elections officials recently reversed a decision to move a polling place from a school building to a Christian church. Orthodox Jews were uncomfortable about visiting a non-Jewish house of worship. Some felt it
contrary to Jewish law
.
Second, locating a polling place on church property invites abuse of the electoral process. In a
recent Texas election
, citizens threw their lots on same-sex marriage at a voting station located at a Baptist church. A minister refused to allow signs on church property that promoted gay marriage.
Third, if someone is reluctant to vote in a church or synagogue or mosque, elections officials should readily make absentee ballots available. Refusing this simple solution disenfranchises the voter. That defeats the purpose of the
Help America Vote Act
. True,
elections laws
are very strict about absentee ballots, but they are authorized for people unable to attend a polling place for religious reasons. I'm sure the Islamic Center is a wonderful place and I wouldn't mind voting there. It's sad some folks feel uncomfortable, but permitting them to vote by absentee ballot would ensure their voices are still heard and give them time to get used to the idea.
Update:
1) Several commenters tell me Betty Hillwig is now retired. But her successors refuse to supply an absentee ballot to a voter who's squeamish about making his choice at a mosque.
2) The letter in question came from a Whitehall voter and was directed to Bonnie Dodge. She forwarded this letter to numerous media outlets, but didn't write it herself.