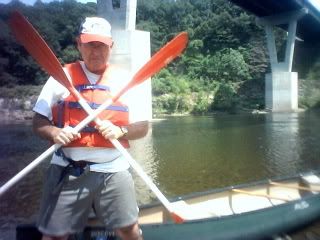 When I first started blogging, and had maybe twenty or less daily readers, it was basically an exercise in writing. I've always loved to write, and this was a forum that gave me some freedom to say exactly what I thought.
I gave myself two months. It's been two years.
I had no specific desire to discuss local politics. But that's pretty much what has happened. I present a picture of mostly local leaders and issues you are unlikely to see in the MSM. I can go into more detail, be more opinionated and really piss people off, too. I can also focus on issues that matter to me, like local campaign finance or open and accountable government.
Now, this blog has annoyed many local leaders. The most recent example is
Allentown Mayor Ed Pawlowski.
Until the blogosphere arose, few knew the obscene amount of money -
$108,588
- he has been collecting from city workers and contractors during off election years. Hizzoner knows there's only one paper in town and counts on a lack of competition to shove his agenda down everyone's throat with little dissent. Those who question him are
marginalized as naysayers
or must be from the
"boonies of Northampton County."
Here in the blogosphere, Pawlowski is fair game. Even
MSM hotshots like Bill White
have noticed.
Pawlowski is just one of many examples. Dem party boss Joe Long had seizures when Northampton County Exec John Stoffa made the mistake of
including a blogger in a press conference
.
"I ask you to cease and desist from treating O'Hare as legitimate press."
Blogistan even presents a challenge to
highly paid spinmeisters like LVEDC's communications director
, Joe McDermott. He's really being paid to promote the agenda of Lehigh Valley's unelected aristocrats in The
Lehigh Valley Partnership
. They are the puppeteers pulling the strings for elected leaders like Pawlowski. If you don't believe that, just look at his campaign finance reports. They must really get annoyed when some low brow blogger comes along and starts throwing monkey wrenches into their well laid plans. It makes his job so much harder.
If I've done one thing right, it's this - I've really managed to piss some powerful people off. It's a gift. But what I write is entitled to no credibility unless I follow this simple mantra -
be fair
.
I've already blown that ideal twice since Saturday. I
posted a blog
with a picture of a Hillary sign claiming she likes to eat children, who do taste pretty good if properly cooked and marinated. But my headline was misleading, creating the implication in some people's minds that I was blaming Obama 's campaign. My readers quickly noted this, and I was forced to agree. I did pretty much the
same damn thing again
on Tuesday, and was quickly called out by my readers.
I violated my own mantra. My readers are actually my editors. If I go over the top with something, they let me know pretty quickly.
Despite stunning good looks, I am only human. Many things my critics say are true. I am an alcoholic. I did lose my license to practice law. I am pretty poor. I do live in a small apartment. I do accumulate parking tickets. I am overweight. I do drive a banged up jeep that probably should be towed away. I am also very opinionated. I may even be a blowhard. Those are the nice things. Other complaints are hateful. But they are to be expected.
If I dump all over Bossman Joe Long, Mayor Ed or Scissorhands Severson, I have to expect someone to return the courtesy. That's no biggie. Have I afflicted the comfortable? Yes. Have I covered stories in ways you won't see in the MSM? Absolutely. Is it impartial? Absolutely not. Informative? Yes. Entertaining? Hopefully.
But unfortunately, some local bloggers have also joined the cacaphony of
ad hominem
complaints directed at me by local leaders. And it all came about because I actually defended a local official from an unfair and defamatory attack.
I'll tell you about the
"team"
at
LVPoliblog
next time. They just removed their link to this blog, too!